Name: Gracen
Age: 19
Sex: f
Location: CA
Likes: Animals, computers, video games, cooking, and animals.
Dislikes: People with poor restaurant etiquettes, people who don't know how to drive, when identical things (silverware, money, etc) don't all face the same way, Clutter/mess, and flat soda.



Desired Member Status: (*read the POINTS section*) Point status

Hottest:
1. photosaurus_rex
2. snowflake_pink

Ugliest:
(you have to do this!)
1.gorgeous_mess
2.


5-10 Bands:
1. Covenant
2. Diary of Dreams
3. Rosetta Stone
4. Assemblage 23
5. Falconer

5-10 Movies:
1. Zombi
2. Shark Attack 3
3. Sleepy hollow
4. Ong bok
5. Airheads

5+ Pictures: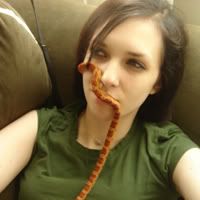 Salute:
How did you find out about
miniaturess?
No one sepcific
Three Promotions:
(Please do this)
1. Your userinfo I'll post in a few communities instead of my info.
http://community.livejournal.com/000000000000pro/1258236.html
http://community.livejournal.com/0000000000000_/1156109.html
http://community.livejournal.com/00000000000000g/1557826.html
http://community.livejournal.com/000000000000111/723647.html
2. A public entry http://queenofthenorth.livejournal.com/579.html
3. Place of your choice http://community.livejournal.com/_______pro_mote/573227.html

A 153 (width) x 200 (height) picture:
(If you can't do it, choose a picture)